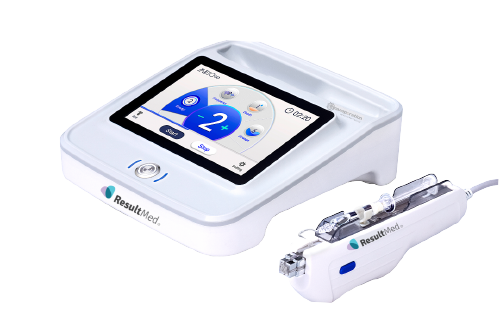 Μηδενικός τραυματισμός της επιδερμίδας
1 of 4
Αποτελέσματα άμεσα ορατά από την πρώτη εφαρμογή
2 of 4
Μείωση λεπτών γραμμών και ρυτίδων
3 of 4
Άμεση λάμψη και φωτεινότητα
4 of 4
Description
Features
Benefits
Description
e-Nanoporation with ETM (Electroportion Transdermal Meso-chip) technology makes use of the activation of aquaporins, millions of microchannels in the tissues that investigate the transdermal penetration of active ingredients up to the dermis. 
Features
Benefits
Why Choose
e-Nanoporation?
• Zero skin injury
• Maximum penetration of active ingredients
• Zero material loss
• Immediately visible results from the first application
• Reduction of fine lines and wrinkles
• Enhancement of elasticity
• Restoration of discolorations
• Instant radiance and brightness
Painless non-traumatic Mesotherapy device
— Innovation in Mesotherapy
— NEW Transdermal Meso-chip & Electroporation technology 
— Electrodrilling Technology
Optimal Results
The integrated oxygenation and exfoliation action of Diamond Microdermabration technology offer a holistic intervention and excellent anti-aging action and more.
Valuable Investment
High performance and fast payback (ROI), meaning fast depreciation and satisfied customers with permanent results.
Non-Invasive Treatment
Tackling different manifestations of aging in a personalized and effective way, quickly and painlessly, for non-invasive facial treatments, all year round.