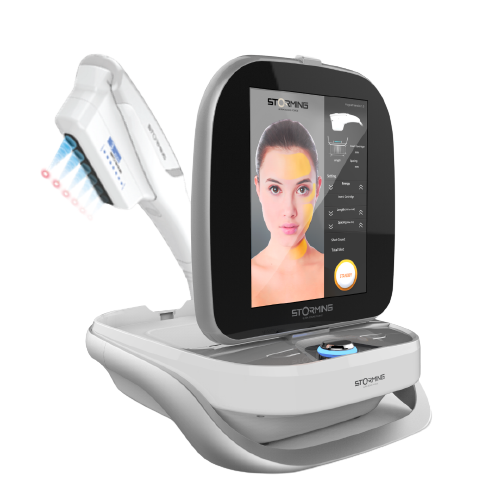 1 of 4
Μηδενικός χρόνος αποθεραπείας
2 of 4
3 of 4
4 of 4
Description
Features
Benefits
Description
STORMING HIFU  applies HIFU (High Intensity Focused Ultrasound) technology with the latest High Intensity Focused Ultrasound technology, emitting continuous shots from left to right and right to left non-stop. This means faster sessions for those with no time to waste.
Features
Benefits
Why Choose
e-Nanoporation?
Continuous Working Mode Technology (CWM) Continuous loading of shots, super fast sessions.
The STORMING HIFU technology outperforms other technologies and methods in the field of lifting because it is non-invasive, painless, bloodless, and has much lower cost with zero recovery time, and also is safe, without side effects and chemical additives, suitable for all seasons of the year.
Condition of dots in the skin layer
— Depth indicator that is easy to understand
— All cartridges have a guarantee of 10,000 shots and a frequency of 4.3 Mhz.
Optimal Results
The integrated oxygenation and exfoliation action of Diamond Microdermabration technology offer a holistic intervention and excellent anti-aging action and more.
Valuable Investment
High performance and fast payback (ROI), meaning fast depreciation and satisfied customers with permanent results.
Non-Invasive Treatment
Tackling different manifestations of aging in a personalized and effective way, quickly and painlessly, for non-invasive facial treatments, all year round.